description
Refund Policy
Validity: Code is valid for use in 1 PC. Lifetime validity. WITH UPDATES.
Multilingual: All languages available
Shipping & Delivery: Fast shipping with e-mail delivery in less than 5 minute (24/7).
Improve your productivity, organizational workflow, communication, and data management with the Microsoft Office Pro Plus 2016 suite. Included in the Professional Plus package are all essential apps that have already helped millions of small, medium-sized businesses and organizations to work and cooperate in an intuitive & feature-rich way.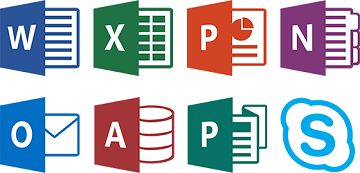 With each purchase of the Office Professional Plus 2016 you get the following set of applications:


Word 2016 - The powerful word processor and editor includes advanced document editing and design with preinstalled templates, grammar check and mistakes underline, synonyms finder, and so much more. You can automatically save your documents on OneDrive, insert graphs/data from Excel, print preview documents, add/edit photos, and open/edit/save files in PDF format. For advanced checking of grammar and sentence structure, you can install 3rd party apps such as Grammarly and further improve the quality of your writing.


Excel 2016 - Besides the usual calculations, formulations, and presetting that Microsoft Excel is known for, the 2016 version was the first that introduced QuickAnalysis and came with tons of new charts. The QuickAnalysis & Tell Me feature identify the best tools to be used for your data and enables you previews until you make the final decision. The search field and data grouping are now made easier with the new PivotTables feature.


PowerPoint 2016 - The most powerful presentation maker and editor come with new presentation templates, presentation editing, and presentation control features that will help you create a professional presentation in an easy way. The looks, ability to add video and other media to your presentations, and the smooth control of presentations are still making PowerPoint 2016 the best presentation tool.


OneNote 2016 - This note creation and note sharing tool lets you create and organize notes with data, links, and then add users to view, follow, and edit them in one place. The 2016 version is largely improved, more powerful, and allows users to take notes on Microsoft Edge, clip from the Web and add to One Note, add new forms of media such as embedded videos from YouTube and Vimeo.


Outlook 2016 - From Popup mail and meeting reminders to intuitive meeting scheduler and mail filtering, Microsoft Outlook 2016 is one of the best email management apps for professionals and businesses. Upgrade your email communication by creating automatic replies, adding voting buttons to emails, delay and schedule sending of emails, and much more!


Access 2016 - From contacts management to data management about sales and customers, Microsoft Access gives you a powerful set of tools to keep all data important about your organization or business in one place. The MA 2016 version comes with the Tell Me function that creates forms, reports, tables from the search bar. Additionally, the 2016 Access comes with new modernized templates and themes, as well as a larger dialogue and enhanced UI.


Publisher 2016 - Create professional-looking print and website content using Microsoft Publisher 2016. It is powered with great editing and creator tools, such as templates, fonts, design elements that will let you create custom forms, presentations, business cards, stationery, brochures, and even personal blogs and website content without design or programming knowledge.


Skype for Business - 
One of the most stable communication tools for remote working, HD video calls, and instant messaging, comes equipped with superior features for collaboration and online conferencing, such as the in-built remote screen control.
| | |
| --- | --- |
| INFO'S: | |
| License type: | Full version; possibly upgraded by maintenance agreement with copyright holder |
| Distribution type: | volume (OLP, EA or similar); digital certificate |
| License valid for: | Lifetime |
| Installation method: | Installation from the manufacturer's installation file (we provide a link for downloading the file) |
| Architecture: | 32/64 bit |
| OS Compatibility: | Windows |
| Language: | Multilingual |
| | |
| --- | --- |
| REQUIREMENTS: | |
| Operating system: | Windows 7, 8, 8.1, 10; Windows Server 2008 R2, 2012, 2012 R2, 2016 |
| Graphics: | DirectX 10 graphics processor |
| Hard disk space: | 3 GB |
| Memory: | 1 GB RAM (32-bit); 2 GB RAM (64-bit) |
| Processor: | |

This key can activate ONE windows device, only ONE time. After activation process is done, you will NOT be able to use the same key again. Formatting the hard drive will effectively erase the key. You can NOT transfer the licence to other computer.
Keep in mind that this key can activate ONE windows device, only ONE time. After the activation process is done, you will NOT be able to use the same key again. Formatting the hard drive will effectively erase the key. You can NOT transfer the license to another computer.
Return & Refund Policy
Thank you for shopping at EsdCodes.com.
Please read this policy carefully. Your satisfaction as a customer is very important to us.
We issue refunds on our products on following terms :
1.Full refund within 60 Days, if the customer received a unusable licence   - but first must contact our support, to determine that licence is not working due to the licence itself and not by some other means (faulty installation, wrong product installed, malware or virus corruption of system files etc..)
2. Full refund within 60 Days, if the customer did not receive a licence at all, via Email.
3. Full refund within 2 Year, if customer is having problems with licence, after activating it.
4.NO REFUND if the customer received a working licence
To receive a refund, the buyer has to contact us via e-mail: info@esdcodes.com.
EsdCodes.com reserves the right to check the product key for Activation details  within seven calendar days. If the test reveals that the product key has already been activated, after the purchase, EsdCodes.com has the right to refuse refund, since the purchased service has been provided as agreed.
If you have any questions about our Returns and Refunds Policy, please contact us at info@esdcodes.com